Behaviorprise College employs evidence-based approach to the development of our training curriculums.
We start from researching what clients, families and employers are seeking when they look to hire. We employ the behavioral skills training (BST) approach to teaching which includes providing instruction to students (instruction), modelling the skills we need them to master (modelling), requiring them to demonstrate their understanding (rehearsal) and providing appropriate feedback to them (feedback).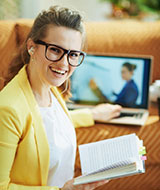 Programs
The Developmental Service Worker – Behavioral (DSW-B) program.
Approval status: Approved as a vocational program under the Private Career Colleges Act, 2005